Mobile Billboards
One of the most difficult hurdles for any advertiser is finding just the right location to advertise. Mobile Billboards offer advertisers the unique ability to move to the audience. Instead of waiting and hoping that the audience eventually happens upon your advertisement, you can take your mobile billboard right to the crowds. Mobile Billboards are the most effective tool for solving all your placement concerns. Customized placement provides numerous benefits including:
Taxi Top Billboards
Bus Advertising
Train Billboard Advertising
Truck Advertising
Commuter Rail Billboards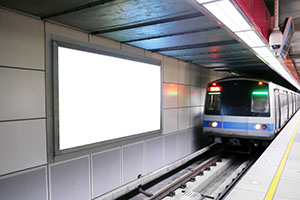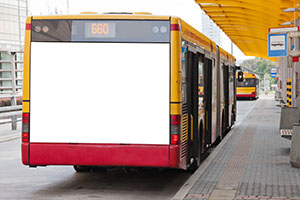 Speak to a live rep:
(866) 604-2892
Features
Maximize Exposure in Target Areas
Deliver your message directly to your audience.
Flexible Placement
Repeat Routes
Mobility
Mobile Billboards are appropriately named. They can change position as often as you wish because, well, they're mobile. This gives the advertiser the added advantage of being able to move your advertisements to the audience, instead of the other way around. Mobility of this nature is not seen with any other form of billboard advertising.
Maximize Exposure
Let's face it. You want your billboard advertisement to be in front of a crowd as often as possible. The difficulty is that the crowd constantly moves. From concerts to sporting events to state fairs, the crowds are easy to predict. Mobile billboard advertisements are the easiest way to capitalize on that predictability. Take your advertisement directly to them instead of waiting for them to come to you.
Repeat Routes
Repeating routes is one of the best ways for billboard advertisers to increase both the visibility and retention of an advertisement within a specific area. A local restaurant owner can place their advertisement on a local bus and watch it drive by throughout the day. This repetition sears the message into the minds of consumers.
Speak to a live rep:
(866) 604-2892
Mobile Highway Billboards
Everybody has seen a mobile billboard when driving along a highway. Mobile highway billboards can be one of the most effective forms of advertising directly to your target audience. On many heavily trafficked highways you can hardly escape mobile billboards. That is because mobile highway billboards work. They deliver your message directly to the target audience, wherever they may be. Companies hoping to get exposure on a grand scale need to look no further than mobile highway billboards. You know exactly where the audience going to be and they will not be able to miss your advertisement. Renting a mobile billboard is easier than you might think. Simply call us at (866) 604-2892 to speak with someone about your billboard rental.
Mobile City Billboards
Mobile Billboards are highly valuable tools for reaching city audiences that are constantly on the move. Mobile billboards such as those seen on taxi tops, buses, and trucks are highly visible when people are traveling in and around major cities. When swarms of people are on the move, so to are mobile billboards. They travel right to the audience. There is no better way to capture the attention of these mass audiences than with a mobile city billboard advertisement. From Bus advertisements to taxis to trains, our affiliates have all the tools you need to run an effective mobile billboard campaign in any city, nationwide.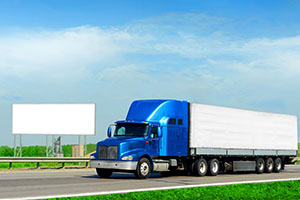 Speak to a live rep:
(866) 604-2892
Mobile Billboard Sizes
Mobile billboard sizes can be referred to in two different ways. They can be referred to by the number of sheets (the less sheets the smaller the poster) or they can be referred to by their more common street name. The chart below gives all sizes of mobile billboards we offer.
| Billboard Type | Size (In Sheets) | (In Feet) | (In Meters) |
| --- | --- | --- | --- |
| Medium Billboards | 48 Sheet | 20'w by 10'h | 6m w by 3m h |
| Posters | 32 Sheet | 160"w by 120"h | 13.33'w by 10'h |
| Truck Advertisements | 16 Sheet | 6.67'w by 10'h | 2m w by 3m h |
| Junior Posters | 12 Sheet | 120"w by 60"h | 3 m w by 2 m h |
| Bus Stop Posters | 6 Sheet | 4'w by 5.8'h | 1.2m w by 1.75m h |
| Taxi Top Billboards | 4 Sheet | 5w' by 3.33'h | 1.5m w by 1m h |
Frequently Asked Questions
How long do Mobile billboard rentals last?

While some markets do vary, the majority of our affiliates rent Mobile Billboard space in 4 week increments.

How effective are Mobile Billboards?

Mobile Billboards are highly effective when used to target specific demographics. They give the advertiser the ability to reach specific groups of people in specific places. This unique feature makes them extremely cost-effective as well, limiting the number of unneeded viewers.

Where can I put my Mobile Billboard?

Mobile Billboards are the best tools in the business for flexible, effective placement. The needs of the advertiser coupled with our key demographic targeting strategies help determine where mobile billboards should travel. To immediately convert viewers into sales, your mobile billboard will circulate within a few miles of your business. If brand awareness is the focus of your campaign, proximity to your product is not nearly as important as reaching high volume target demographics. Mobile Billboards can go almost anywhere. From concerts to festivals to baseball games, your mobile advertisement can be viewed by who you want, when you want. Whatever your individual needs, our team of experts can advise you on the mobile billboard that will most benefit your business.

There is a Mobile Billboard I want, how do I rent it?

To check availability and pricing for specific mobile billboards in your area, call us directly at (866) 604-2892.